Bio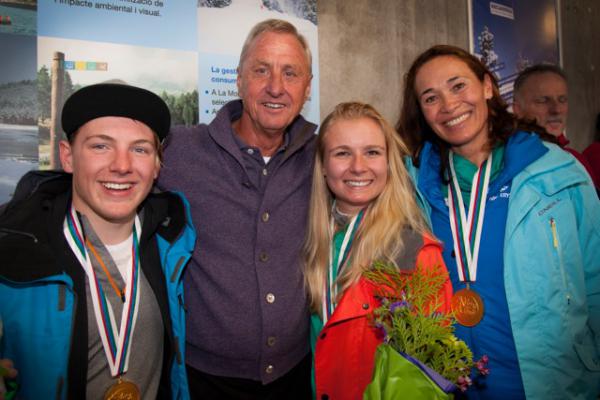 World Champion Slalom and Boardercross 2015 with Johan Cruyff (foto credit: Natasja Vos)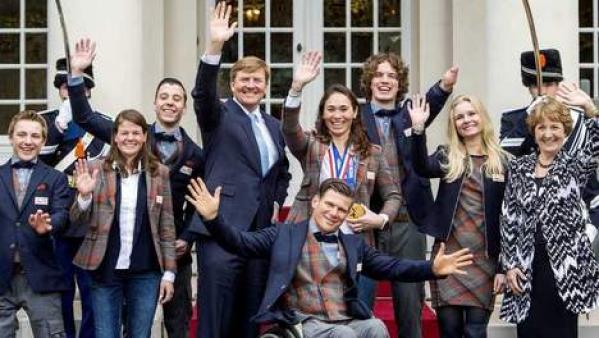 Paralympic Team NL 2014 with Dutch King Willem Alexander (photo: Mathilde Dusol)
Sochi 2014
About Chris Vos
Chris Vos is a Dutch snowboarder born on 25-2-1998. He lives in the city Noord-Beemster Netherlands. As a result of a serious accident at the age of 5 years old, he has had a paralysis injury (plexus injury) on his right leg. He also misses his muscle gluteus maximus. The hospital docters predicted that he will be sitting in a wheelchair for the rest of his life. Ofcourse Chris thought otherwise and now walks daily with a brace (orthosis). An orthosis is a brace where you put your leg in. He walks with a stiff leg. Because he wears the orthese he do not have to use a wheelchair. This is the result of a always positive mindset, hard work and a lot off efforts that Chris has set himself to.
Foto Credit: Natasja Vos 
At seven years old he started snowboarding. Because the family likes to ski, Chris also wanted to slide down the mountain and he wanted to enjoy nature and the winterplayground. Because skiing did not work the only option was to learn snowboarding.To teach him snowboarding his parrents put a rope around his waist to go safely down on the  the mountain. Learning to ride on a snowboard was extremely difficult for Chris because he had to ride with stiff legs with no bending in it. It was an unnatural way of snowboarding. So many tears and so much pain defied, Chris wanted it to be an succes.
In 2010, Chris watched the sports TV and saw the dutch snowboard athlete Nicolienne Sauerbreij who participated in the Olympic winter Games Vancouver 2014. He witnessed how she became an golden Olympic champion. He screamed out loud...I want that too! He was so enthousiastic about this that his father's contacted the Dutch snowboard federation. After a while Chris came into contact with Para-Snowboarder Bibian Mentel.
Bibian Mentel takes Chris at the age of 12 to international competitions and training camps. During the World Championships in 2012 he was Junior World-Champion. At this period he met Orthosis builder "Frank Jol" from the city of Hoorn. Frank builds a very special light weight snowboard orthosis with gas spring. With the new orthese Chris can now bend his leg and improves his snowboard skills.
Paralympic Games Sochi 2014
In 2014 he was qualified for the Paralympic Games at the age 16. In Sochi he started as the first man in history under the watchful eye of the whole world and he showed some great skills. How was it possible that a schoolkid from a country with no mountains go so fast down on the mountain?
After Sochi he returned to the Netherlands were there was a lot of media attention , so he met the Prime Minister "Mark Rutte" and he visited the King of the Netherlands " royal highness Willem Alexander "
 Foto Credit: Natasja Vos
New classification format
At the season 2015 happened somethings no one expected. Through further development and improvements of the adaptive snowboardsport, the International Paralympic Committee decided for a new classification system. Through this renewed format racing against each other is now more honestly on the base of the disability.
Chris is classified as "restriction above the knee"
Peak year in 2015
During the first competitions of the season it was clear that Chris was in a good shape. At Landgraaf he won his first European Cup and he was second in the World Cup. After these races, the 17 year old Chris traveled to Steamboat Springs USA for a 5 months training camp, led by the Olympic Dutchman Thedo Remmelink. Chris had followed an intensive training program.
During the World Cups in America and Canada the young Dutchman was every time on stage. He won three World Cups.
At La Molina in Spain, he won two times the gold medal at the World Championships adaptive Boardercross and Banked Slalom adult men.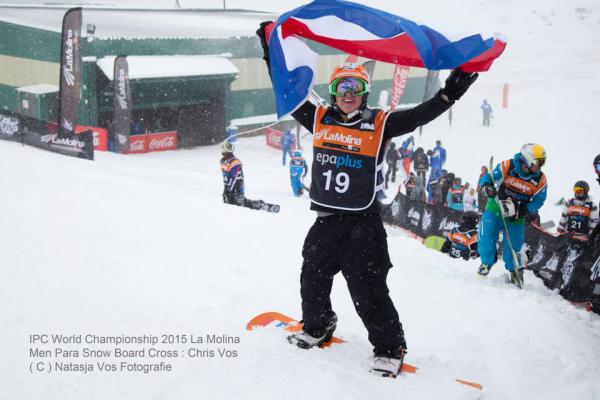 Foto Credit: Natasja Vos
X Games 2015
His victories were noticed in the organization of the X Games in Aspen. For this event you can not qualifie yourself but you got to get a personal invitation to appear at the start of the X-Games.
It's a huge honor for any athlete to receive this personal invitation. Chris received an invitation to participate in the Boardercross Head to Head race, something the adaptive athletes have not done before. In the field where you start with five athletes, Chris was the fasttest out of the start gate.
The US TV report talked about it.....How can a 17 year old schoolboy be the first out of the startgate?
There is no classification restriction during these X-Games competion, so all the adaptive athletes are racing against each other. In the final run Chris became 8th. With an overwhelming impression and a lot of adrenaline Chris went home dreaming about the future....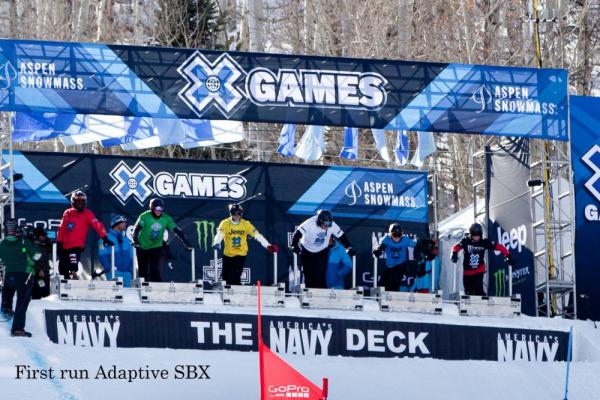 X Games Aspen USA 2015. Foto Credit: Natasja Vos